If you are considering of introducing a floor heating system, please try our S-cut floor heater by all means. We recommend our S-cut floor heater.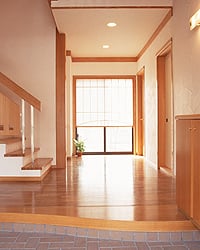 The S-cut floor heater, presented by Scut System, is a very comfortable floor heater based on electric stainless heating element, which is very thin.
S-cut floor heater is a made-to-order system, which fits perfectly any space you want. It warms up room evenly and realizes the comfortable space.
We started from production of snow melting heater for roof. Before long, we applied the technology to floor heating and developed the S-cut floor heater. With selling S-cut floor heater, we established a company newly as Scut System in 2003. Three years have passed, and sales have been increasing smoothly.
Scut System now holds a young employee in great numbers and it makes company full of vitality.
We make every effort continuously to have many people know comfortability and high functionality of the S-cut floor heater. We are aiming at top of the industry, and do our best toward it.
Takesi Nasu
President-Director
Scut System Co., Ltd